The TRUBLU Ultimate Plus is the leading wheel used by race winners because they are fast and reliable. Hand built in Australia with Japanese race bearings and DT Swiss 13 gauge spokes.The TRUBLU Plus wide rim offers extra grip so it's faster through corners as well as giving longer tyre life.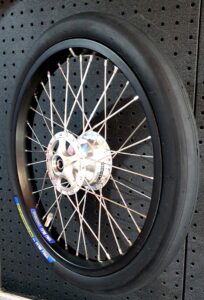 Also see our parts pages for wheels  and tyres
TRUBLU racing tyres are now available in 3 versions
TRUBLU 60tpi
TRUBLU120TPI
TRUBLU 120 TPI comp c - extra sticky compound
MR Components are now stocking
a huge range of Greenspeed parts
Some of you may be aware that in 2020 the long running, Australian recumbent trike manufacturer GREENSPEED was sold to Terra trike USA. As a result, Greenspeed sadly closed its Australian factory and when we heard this was happening we took the chance to purchase a quantity of trikes and the majority of Greenspeed parts stock.
This was, in some way, to keep Greenspeed alive in Australia but we also know there are lots of customers who have relied on Greenspeed for those harder to find parts.
It has been both rewarding and challenging as we effectively increased our parts stock to such a degree that we are now the largest specialist recumbent trike parts supplier in Australia and quite possibly worldwide. Trying to house and organise 4 extra shipping containers worth of trike parts is quite a challenge!
So if you are looking for anything you may have previously sourced from Greenspeed, like Scorcher tyres or more specialised trike parts, give us a call on 0488652909 or email [email protected]
New TRUBLU ultimate plus wheels
-Available now-
These new wheels have all the normal TRUBLU ultimate features, DT Swiss spokes, Japanese race bearings hand built and performance tested, but also TRUBLU plus rims, which have  wider  section for lower rolling resistance (faster) and improve both  cornering speed and tyre life.
Proven less speed loss in corners due to lower tyre scrub and less pit stops for tyre changes are required.
As used by THINK HPV   - TOOTHLESS and Energy breakthrough Maryborough 2018 HPV open winner and new race record holder -  PerZeus
Trublu Racing Tyres as used by leading HPV racing team, Wattle Racing. See video below
Current Recumbent Trike Racing Results
2019 Energy Breakthrough Maryborough
5 of the top 10 trikes in the Primary section are TRUBLU Trikes
2019
1st Place Bendigo HPV Gran Prix Open Secondary Caulfield Grammar
3rd Place Energy Breakthrough Maryborough Primary Derinya
4th Place Energy Breakthrough Maryborough Tootgarook
1st Place Wonthaggi HPV Gran Prix open Secondary (Caulfield Grammar) -  Nighthawk/Spaceframe
1st Place Wonthaggi HPV Gran Prix community - Nighthawk/ Spaceframe
Previous Years
2018 Maryborough RACV -  4 of the top 10 primary positions were  held by TRUBLU trikes with Nighthawk fairings
2017 Maryborough RACV Lap record (Derinya Primary School) Spaceframe/Nighthawk 5 of the top 10 positions at 2017 Maryborough Primary section are held by TRUBLU trikes
2017 1st place Casey HPV (Overtakers) Spaceframe
2016 2nd Place Maryborough Primary section (Jells Park Primary School) Spaceframe/Nighthawk
2016 LAP RECORD Maryborough Primary section (Derinya Primary School) Spaceframe/Nighthawk
2016 1st place Casey HPV 6 hour (Overtakers ) Spaceframe
2016 1st place Wonthaggi HPV Gran Prix and fastest lap - Spaceframe/Nighthawk
2015 2nd place Maryborough Primary section (Derinya Primary School) Nighthawk
2015 Wonthaggi HPV Gran Prix Beaconsfield Upper Community –Veterans 1st place (Nighthawk fairing)
2012 –1st place Round 3 Casey
2012 -1st place and new distance record Australian International Pedal Prix
Two Scouts on a World Trip on MR Recumbent Trikes