MRT XC Touring Trike
A high quality trike designed and made in Australia
Folds for transport
Very stable steering , excellent handling and a small turning circle
Adjustable seat height and angle allows easy access for riders with limited mobility
120kg rider weight rating
Cost - $5400
MRT XC Touring Trike
The current MRT XC is the third version of the original MRT touring trike built by MR Recumbent Trikes. The MRT has a proven record for reliability and practicality.
MR Recumbent Trikes have been manufacturing trikes since the 1990s.
Some of the achievements of MR recumbent trikes
1993 original designer of the direct steering for trikes- now used on many brands of trikes worldwide.
1998 production of Swift touring trikes commences
2000 Ultra Swift lightweight 12.5kg aluminium trike produced
2001 MR recumbent trikes Swiftlet wins trike world championship
2003 Full suspension Swift adventure trikes developed
2007 consultant to Greenspeed for development of new-zero brake steer- steering geometry
2010 MRT touring trike developed
2012 Trublu racing trikes developed and set new Australian records
2013 Trublu trike specific racing wheels developed
The MRT became known as the jack of all trades, equally at home on roads or tracks, touring or commuting. THE MRT XC is capable, both on and off road and has been designed for touring with many features to enhance its usage and comfort.
Designed and made in Australia to suit tough Australian conditions
Industry leading steering geometry gives incredibly stable steering, small turning circle and excellent handling. Steering can be easily controlled with one hand.
Zero brake steer or pedal steer geometry ensures steering is dependable, confident at all speeds and extremely safe. (note-recumbent trikes use independent brakes on both front wheels- This can cause a trike to swerve unexpectedly unless the geometry has been designed with zero brake steer.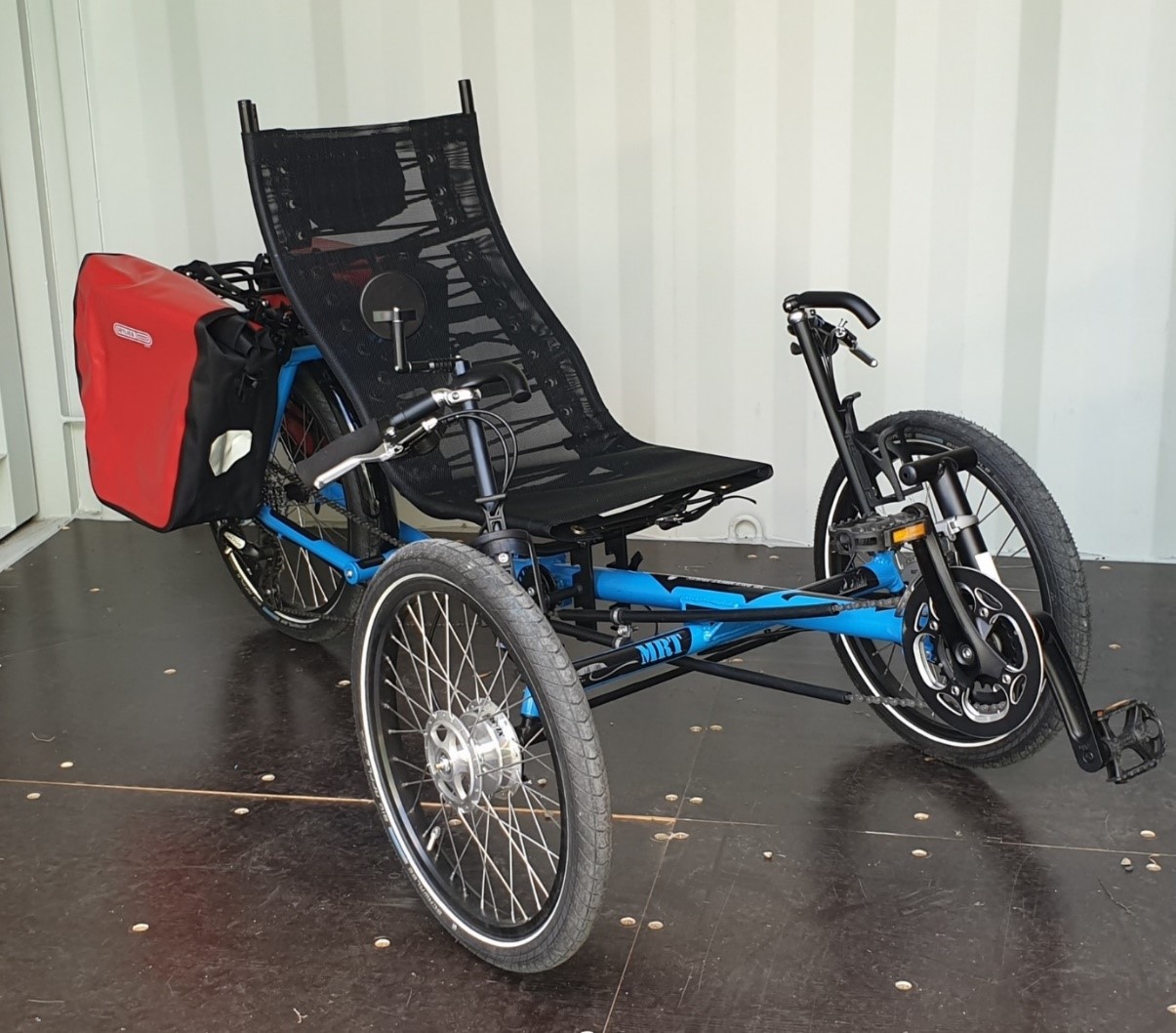 Built in Australia as a purpose designed touring trike. The MRT XC is the result of 24 years of development and refinement of our touring trike models.
We believe its still possible to build high quality trikes in Australia.
Designed to handle tough conditions with minimal maintenance.
2 or 4 panniers may be fitted.
A side bag mount can also be fitted for easy access to phone or camera while seated.
Fitted with race proven Trublu rims and hand built with DT swiss stainless steel spokes for longevity and high performance.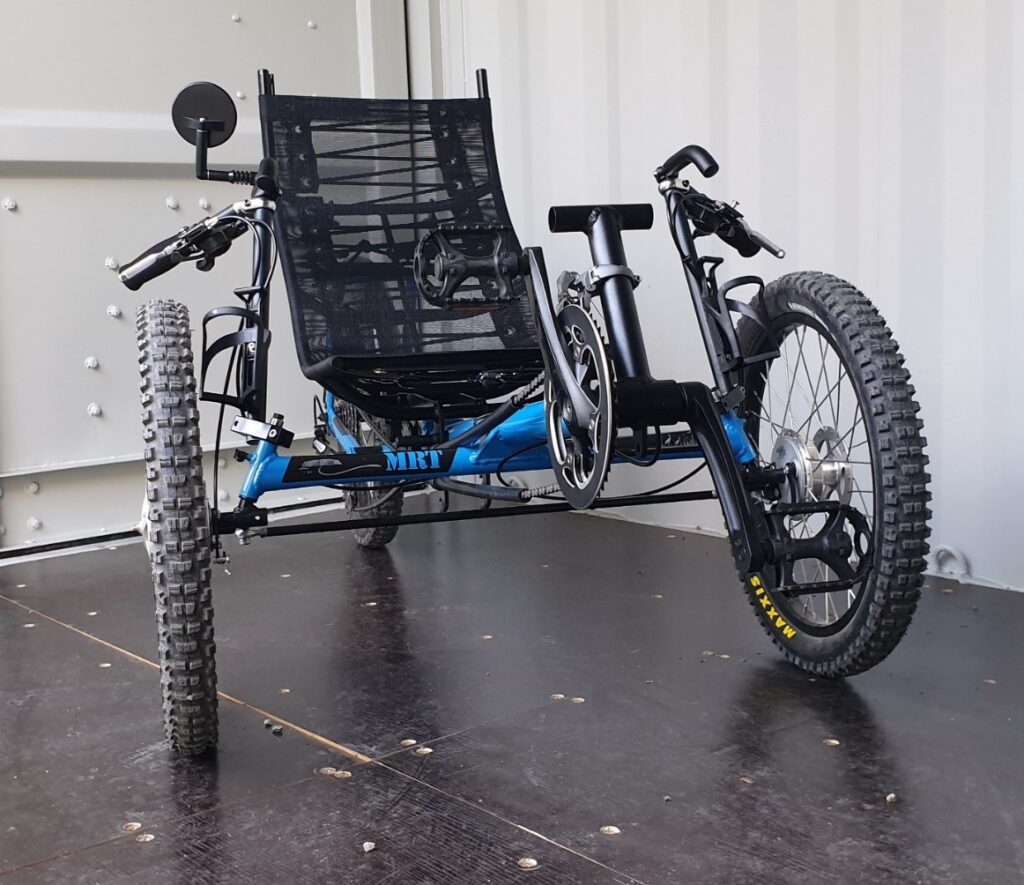 Handlebars are fully adjustable for width, height, reach and angle .
Helping handles (transfer handles) are included in the design for ease of access by all riders.
The frame is designed to be compatible with internal hub gear systems such as Rohloff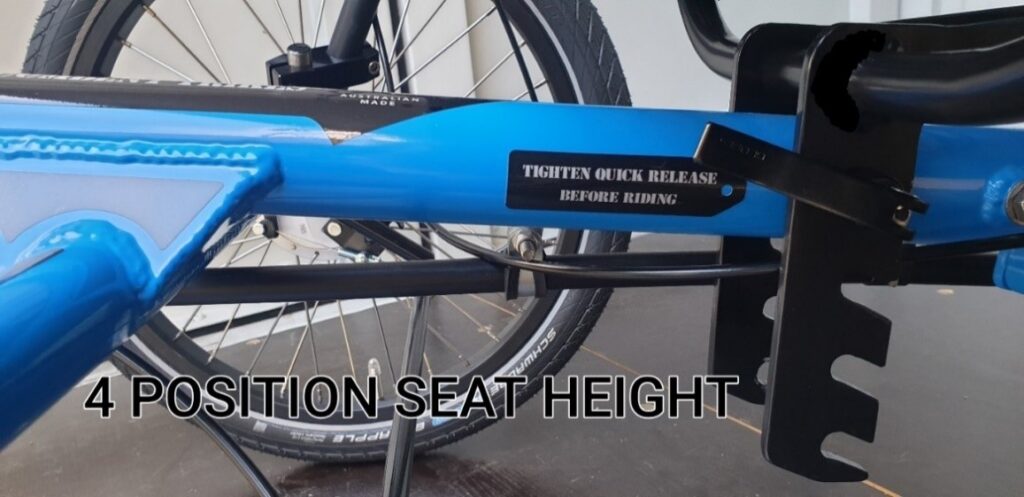 Seat height is adjustable from 38cm to 50cm with matching seat angle adjustment which allows for easy transfer and use by riders with limited mobility( for comparison a kitchen chair is typically 44cm)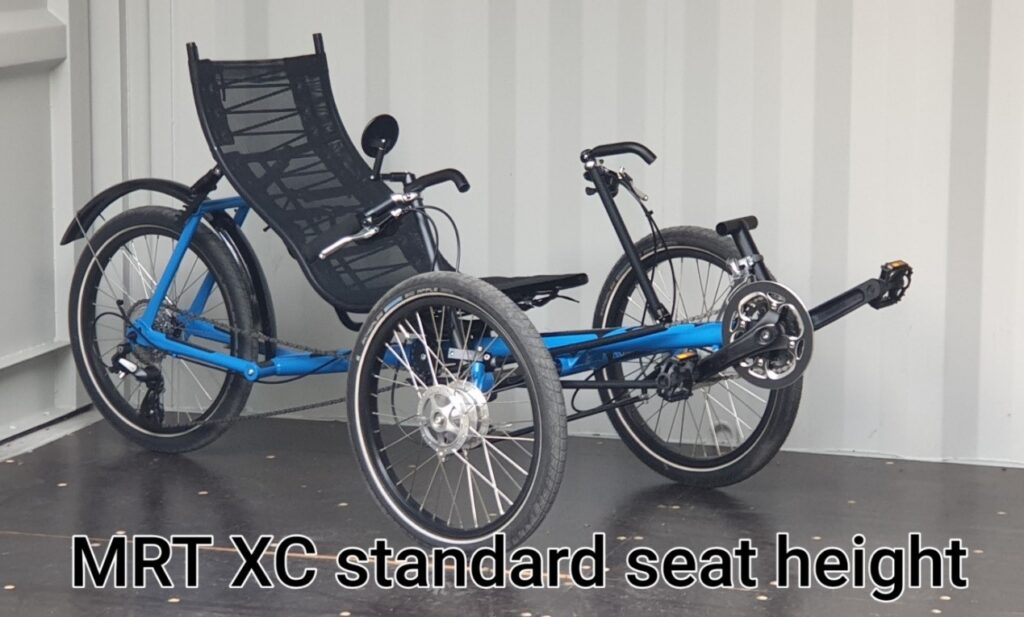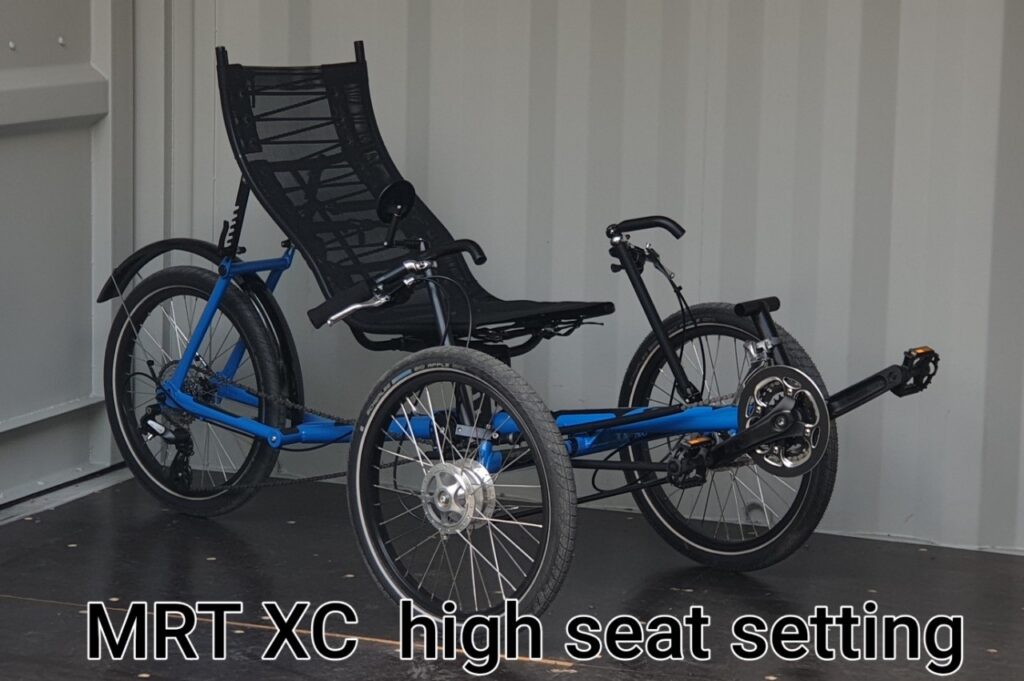 The ergonomic shaped 40 cm wide elastic laced mesh seat breathes and provides a smooth ride while the adjustable lumbar, shoulder and base support allows for a perfect fit to anybody.
The frame of the MRT XC is made in Australia of Aircraft grade 4130 cromolly tubing which gives great long term durability and enhances the smooth ride. It uses an aluminium crank extension for excellent power transfer. The frame design incorporates steering and frame features from our highly successful TRUBLU racing trikes which are known for their durability in extreme conditions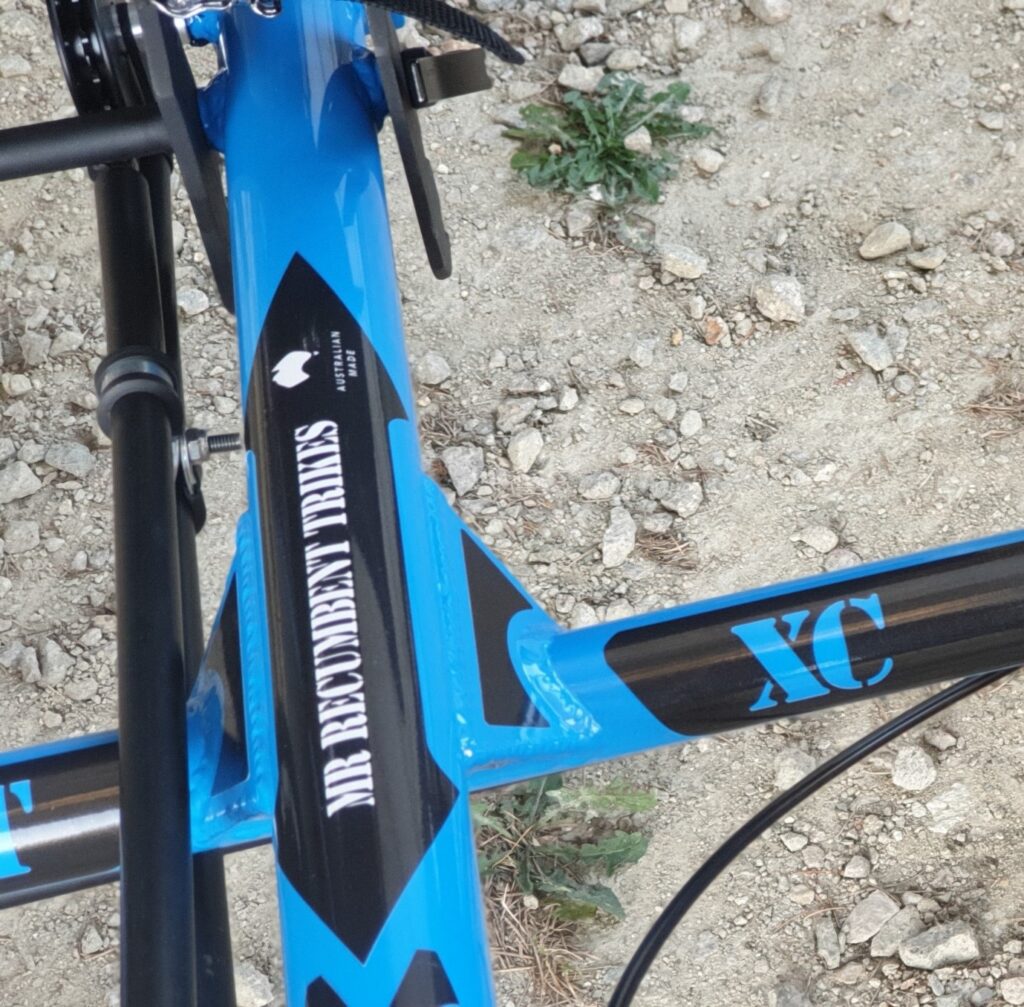 As a true touring trike the MRT XC is capable of carrying 4 pannier bags
Incorporated battery mount point for electric assist
Greaseable pivots on steering for easy maintenance
Strong 90mm drum brakes for reliability and long life
Brake levers incorporate parking brake
Quality Shimano gearing
This trike is very strong yet folds easily and includes quick release wheels.
Can be folded in under a minute for car transport allowing it to fit into a small hatchback
Folded size 90 x 80 x 66 cm high
Vertical Bidon mounts are provided on the handlebar for a water bottle or coffee cup holder
Designed for minimal maintenance the MRT XC uses 90mm Sturmey archer drum brakes for power and very long life
Wheels are hand built with the highest quality  DT Swiss stainless steel spokes and strong TRUBLU aluminium rims
This trike comes standard with the excellent Schwalbe big apple suspension tyres ( these tyres give a suspension type smooth ride without the weight or complication of mechanical suspension)
Since the MRT XC uses 20 "wheels a huge variety of tyres can be fitted. It is also compatible with 4" monster fat wheels and tyres.
Standard Components are chosen for reliability , ease of use and durability
Short cranks are fitted as standard as these are proven to increase performance and reduce knee strain
Trigger operated gear shifting and controls are similar to that of a bicycle making them easy to use .This allows a wide range of upgrades to be easily fitted
The design is based on the KIS principle – keep it simple for greatest reliability and minimal weight
MRT XC Specifications
Track width 80cm
Wheelbase 108cm
3.9m turning circle
22cm ground clearance
Seat height adjustable 39cm - 50cm Quick release
Seat width 40cm with adjustable base shoulder and lumbar support
Seat angle adjustable 35-45 degrees Quick release
Frame-Folding  4130 high strength chromolly  steel- 5 year warranty-made in Australia
Handlebars aluminium fully adjustable
Gear shift levers shimano rapidfire
24 or 27 speed gearing
Derailluers – Shimano
Rear hub- Shimano
Front hubs -Sturmey archer 90mm sealed bearing drum-push button quick release axles
Crankset Triple 152mm Lasco or Sugino
20" x 2 Big apple tyres (2.3" or 4" off road tyres option)
Rims TRUBLU 406 aluminium
Spokes stainless steel DT swiss
Parking brake
Twin bidon mounts (water bottle mounts)
QR axles
Headlight mount included
Recumbent performance short cranks as standard
Helping handles included
Mirror included
Rear mudguard included
Flag included
Rider weight rating 120kg
Trike weight 17.5kg
Prices from $5400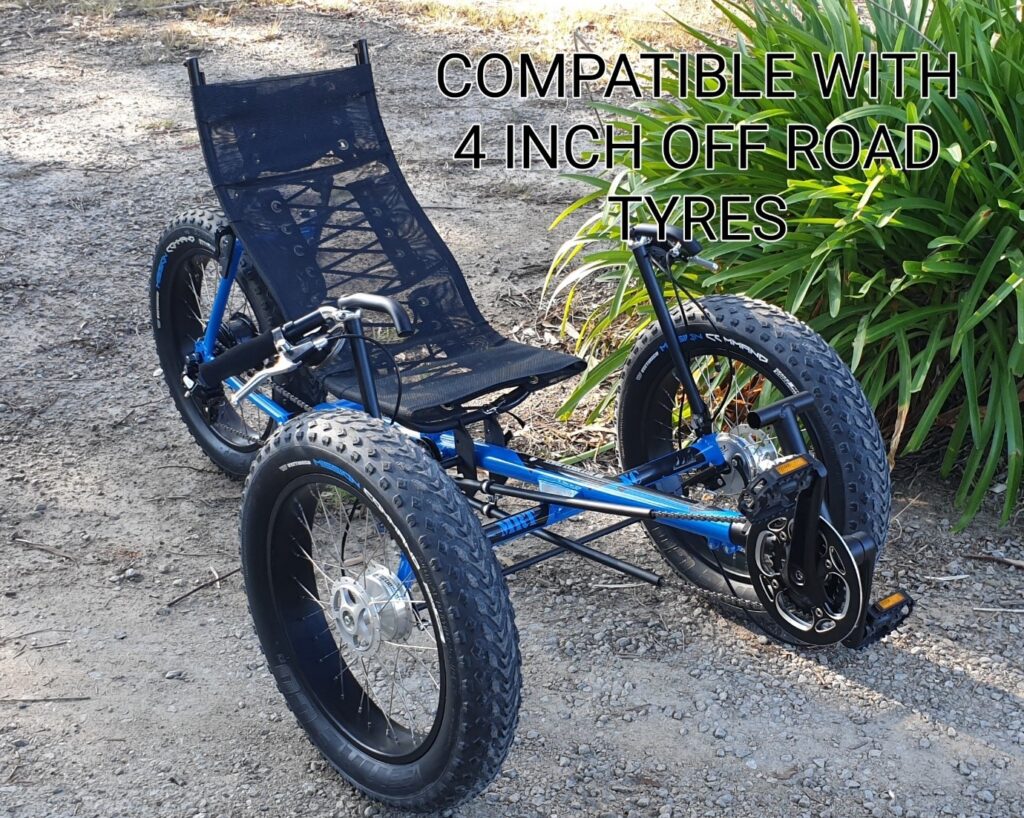 OPTIONS
Electric assist
Single sided controls
2 pannier or 4 pannier rack
Side bag mount
Swiftlink tandem linkage
Internal hub gearing option-Rohloff ,Nuvinci, Enviolo
Monster 4" off road rims, tyres and internal hub gear
Headrest
Choice of frame colours -flame red, blaze blue, space blue ,cabana green, British racing green
Phone-0488652909
Contact details-WWW.MRRECUMBENTTRIKES.COM
Email – [email protected]
Contact Michael 

for his expert advice on a trike that best suits you.