Latest Results
For all current results visit the NEWS page
2019 Energy Breakthrough Maryborough
5 of the top 10 trikes in the Primary section are TRUBLU Trikes
2019
1st Place Bendigo HPV Gran Prix Open Secondary Caulfield Grammar
3rd Place Energy Breakthrough Maryborough Primary Derinya
4th Place Energy Breakthrough Maryborough Tootgarook
1st place Wonthaggi HPV Gran Prix open Secondary (Caulfield Grammar) -  Nighthawk/Spaceframe
1st place Wonthaggi HPV Gran Prix community - Nighthawk/ Spaceframe
Previous Years
2018 Maryborough RACV -  4 of the top 10 primary positions were  held by TRUBLU trikes with Nighthawk fairings
2017 Maryborough RACV Lap record (Derinya Primary School) Spaceframe/Nighthawk 5 of the top 10 positions at 2017 Maryborough Primary section are held by TRUBLU trikes
2017 1st place Casey HPV (Overtakers) Spaceframe
2016 2nd Place Maryborough Primary section (Jells Park Primary School) Spaceframe/Nighthawk
2016 LAP RECORD Maryborough Primary section (Derinya Primary School) Spaceframe/Nighthawk
2016 1st place Casey HPV 6 hour (Overtakers ) Spaceframe
2016 1st place Wonthaggi HPV Gran Prix and fastest lap - Spaceframe/Nighthawk
2015 2nd place Maryborough Primary section (Derinya Primary School) Nighthawk
2015 Wonthaggi HPV Gran Prix Beaconsfield Upper Community –Veterans 1st place (Nighthawk fairing)
2012 –1st place Round 3 Casey
Nighthawk Fairing fits both the TRUBLU 4130 and the TRUBLU Spaceframe.
Nighthawk Fairing Kit $600
- if purchased with trike (race winning fairing kit)
includes laser cut coreflute body kit, modular polycarbonate windscreen, polycarbonate centre and rear windscreen, Velcro, ties, glue and assembly instructions.
Individual purchase of Nighthawk Fairing Kit, (without trike purchase), is available for $780
Optimised for speed, reliability and ease of use. These are the fastest trikes currently available and have raised the performance standard for racing trikes.
Specifically designed and built by MR Recumbent Trikes for schools racing as a result of more than 19 years racing experience in combination with feedback from the TRUBLU racing team.
Current results.
2018 Maryborough RACV 4 of the top 10 primary positions held by TRUBLU trikes with Nighthawk fairings
2017 Maryborough RACV Lap record (Derinya primary school) Spaceframe/Nighthawk 5 of the top 10 positions at 2017 Maryborough primary section are held by TRUBLU trikes with:
2017 1st place Casey HPV (overtakers)spaceframe
2016 2nd Place Maryborough Primary section (Jells Park Primary school) Spaceframe/Nighthawk
2016 LAP RECORD Maryborough primary section (Derinya Primary School) Spaceframe/Nighthawk
2016 1st place Casey HPV 6 hour (Overtakers ) Spaceframe
2016 1st place Wonthaggi HPV Gran Prix and fastest lap - Spaceframe/Nighthawk
2015 2nd place Maryborough Primary Section (Derinya Primary School) Nighthawk
2015 Wonthaggi HPV Gran Prix Beaconsfield Upper Community –Veterans 1st place (Nighthawk fairing)
2012 –1st place Round 3 Casey
2012 -1st place and new distance record Australian International Pedal Prix
Nighthawk Fairing Kit $780
if purchased separately, (without a trike). Price if purchased with TRUBLU trike ($600)
(See details/photo below)
includes laser cut coreflute, modular windscreen, polycarbonate centre and rear windscreen, Velcro, ties, glue and assembly instructions
PLEASE NOTE  - some photos shown throughout the website may show the older style, bubble windscreen. The new model has the modular windscreen shown below.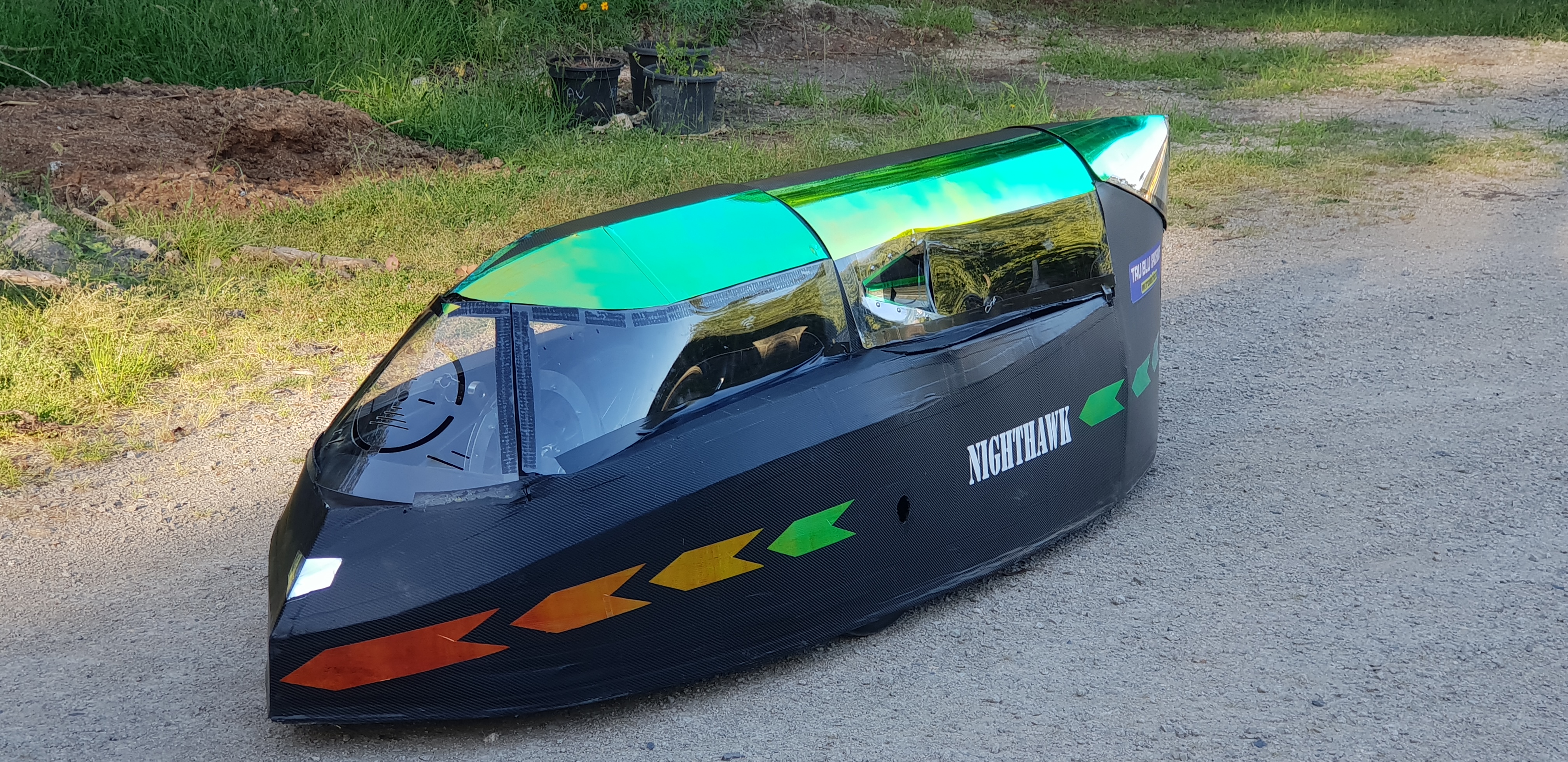 TERMS - please note – An official School order form is required to place an order
Building the Kit is an excellent team building exercise and gives students a positive sense of accomplishment and pride in the vehicle.
This has shown to help with respect for avoiding damage to the vehicle while racing and also improves results.
Of course the students learn much more in this hands on type role than simply riding a vehicle they had no involvement in building.
The Nighthawk has excellent durability and can be used for multiple seasons of racing.
Vinyl wrap may be used to extend service life and offers many alternative aesthetic options.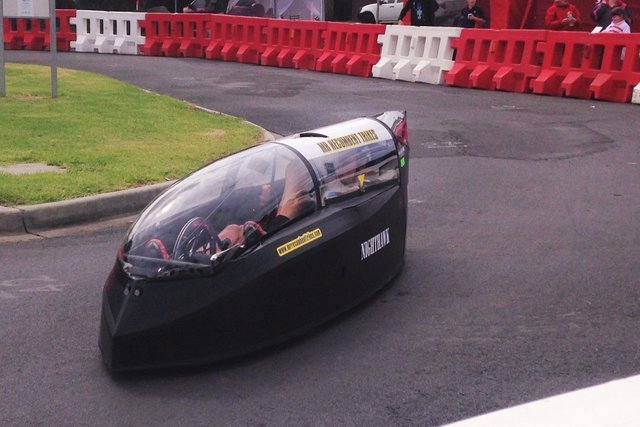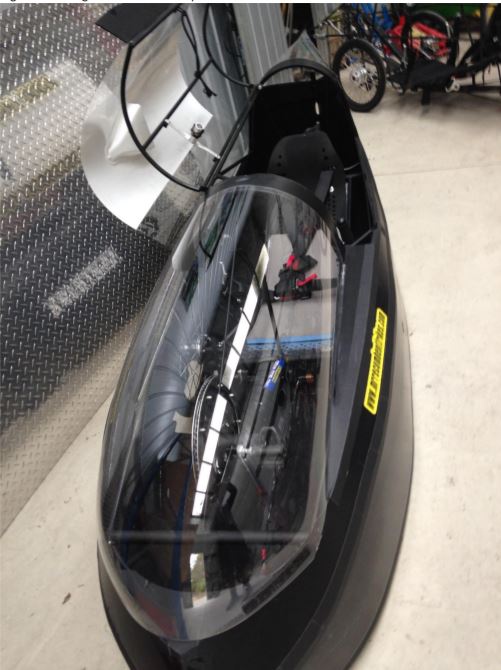 Nighthawk Fairing Kit fitted on Trublu Spaceframe
This kit is the result of long term racing development in cooperation with our customers. It is aimed at producing a fairing with speed competitive with composite models.
Aerodynamic Testing and race experience has shown this has been achieved while still allowing the fairing to be built by enthusiasts with minimal tools and equipment yet still maintaining good durability and lightweight.
To ensure the best result in both speed and aesthetics it is necessary to be patient and attentive to details. Typically 3 days, (approx. 20 hours),  are required to assemble.
The lightweight design allows the modular windscreen, centre windscreen and rear hatch to be easily removed for access or changeover during race if required.
The kit includes 1 standard and 1 defog modular windscreen which when Velcro mounted can be swapped in seconds for additional
defogging/ventilation mid race.
NACA vents are also available ($20) to enhance rider cooling.
Nighthawk fairing fitted on TRUBLU Spaceframe wins Wonthaggi 2016 by a convincing 10 laps clear of its closest competitor.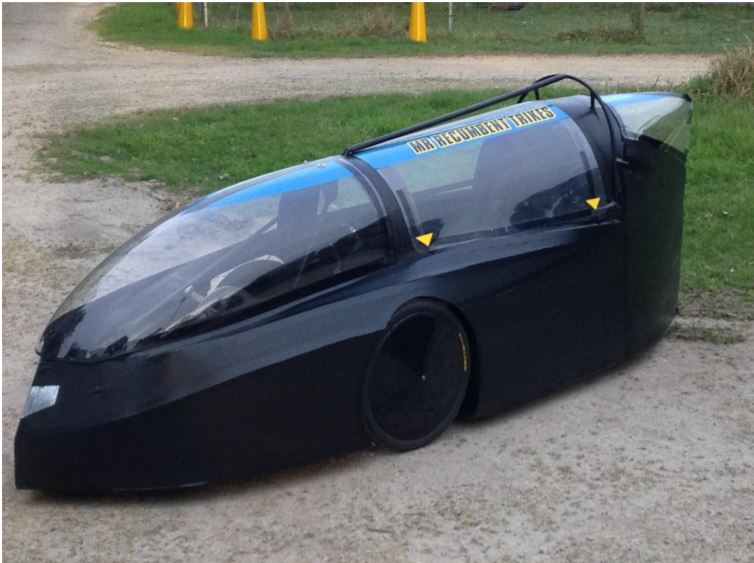 The Nighthawk fairing can be adapted to various other trikes
(Shown here fitted on an old Greenspeed)