Latest Results
For all current results visit the NEWS page
2019 Energy Breakthrough Maryborough
5 of the top 10 trikes in the Primary section are TRUBLU Trikes
2019
1st Place Bendigo HPV Gran Prix Open Secondary Caulfield Grammar
3rd Place Energy Breakthrough Maryborough Primary Derinya
4th Place Energy Breakthrough Maryborough Tootgarook
1st place Wonthaggi HPV Gran Prix open Secondary (Caulfield Grammar) -  Nighthawk/Spaceframe
1st place Wonthaggi HPV Gran Prix community - Nighthawk/ Spaceframe
Previous Years
2018 Maryborough RACV -  4 of the top 10 primary positions were  held by TRUBLU trikes with Nighthawk fairings
2017 Maryborough RACV Lap record (Derinya Primary School) Spaceframe/Nighthawk 5 of the top 10 positions at 2017 Maryborough Primary section are held by TRUBLU trikes
2017 1st place Casey HPV (Overtakers) Spaceframe
2016 2nd Place Maryborough Primary section (Jells Park Primary School) Spaceframe/Nighthawk
2016 LAP RECORD Maryborough Primary section (Derinya Primary School) Spaceframe/Nighthawk
2016 1st place Casey HPV 6 hour (Overtakers ) Spaceframe
2016 1st place Wonthaggi HPV Gran Prix and fastest lap - Spaceframe/Nighthawk
2015 2nd place Maryborough Primary section (Derinya Primary School) Nighthawk
2015 Wonthaggi HPV Gran Prix Beaconsfield Upper Community –Veterans 1st place (Nighthawk fairing)
2012 –1st place Round 3 Casey
TRUBLU 4130
Based on the principles of simplicity and efficiency for schools.
Pedal prix racing with minimal frontal area for best aerodynamic profile.
Built from 4130 chromolly which  gives long term durability, is lightweight and provides the ability for schools to modify in future years with standard welding techniques.
This trike is designed to allow race winning performance.
We understand that teachers often take the burden of preparing trikes for races so all parts used are picked for their ability to continue working well with only minimal maintenance.
The instantly adjustable rider length,(typically takes only 2 seconds), allows a 250mm range of rider lengths to share one trike effectively providing better efficiency, comfort and safety. This feature makes the TRUBLU 4130 the safest and most efficient racing trike available, exceeded only by the TRUBLU spaceframe.
The rider headrest has been ergonomically designed to support the shoulders and neck whilst preventing any pressure on sensitive vertebrae. The headrest also ensures that the seatbelts stay in correct position over the rider's shoulders.
The low centre of gravity means higher cornering speeds are safely attainable and improves rider safety by reducing the tendency to rollover.
Slide out axles take only seconds to swap wheels and allow use in fairings/bodyshells with closed sides and better aerodynamic efficiency.
Adjustable Ackermann steering geometry allows the trike to be set up for optimal cornering.
Trublu 4130 shown with optional roll cages, intrusion bars and double overhead protection bar
Trublu 4130 shown with optional roll cages, intrusion bars and double overhead protection bar
TRU BLU 4130 Specifications
  Frame
 4130 Chromoly steel  with telescopic crank extension (seat belt bosses included)
  Seat
 Chromoly steel with Breezeway fabric, elastic seat cord
  Rims
 16"  TRUBLU double wall
  Tyres
 40 x 349 Scorcher high performance tyres.
  Spokes
 14g stainless steel
  Brakes
 Sturmey Archer drum brakes linked at front
  Shift Lever
 Bar end 8 speed Shimano
  Rear  Derailleur
 Shimano 105
  Cassette
 8 speed 11-23 or 11-28tooth (optional 9 speed)
  Rear  Brake
 Rim Calliper
  Crankset
 Driveline 155mm  recumbent performance crank with 67 tooth TRUBLU chainring (chainring guard included)
  Bottom  Bracket
 Lightweight cromo/aluminium sealed bearing
  Pedals
 Plastic with toe clip (optional SPD adds $40)
  Chain
 YBN
  Handlebars
 Twin handlebar precise control
  Kingpin
  TRUBLU Slide out axle  type with adjustable steering stop and Ackermann adjustment
  Frame Finish
 Matt black
  Seat Angle
 21 degree angle
  Track
 630 mm.
  Wheelbase
 1200 mm.
  Weight
 14.3 Kg.
  Ground Clearance
 60mm
  Headrest
 Aluminium – Ergo neck support -instant adjust for rider length (280mm rider  range)
  Options
 Lightweight rear hub, TRUBLU rims, rollbars, hinged hatch, intrusion bars, tuned wheelset, gearing upgrades, front fairing hoop, Nighthawk fairing
TRU BLU 4130 Racing Trike Pricelist
(All pricing includes GST)
---- TRUBLU 4130 standard complete trike $3490 ----
Optional extras (additional cost to complete trike)
• Front /rear rollbar with side instrusion bars and double overhead bar opening hatch (compliant to 2018 RACV/Wonthaggi/Casey /AIPP reguations) +  $750
• Japanese race bearings in front wheels + $80 per Pair of two wheels
• Lightweight sealed bearing rear hub - NOW STANDARD
• TRU BLU double wall super tough rims –NOW STANDARD
• 73T chainring (includes chainring guard) + $45
• 81 T chainring (includes chainring guard) + $105
• Shimano double sided SPD pedals +$40
• Seatbelt 4 point Hemco + $140
• 9 speed upgrade(Shimano 105 derailuer /durace shift lever) 105 +$130
• Nighthawk fairing kit $600 - if purchased with trike (race winning fairing kit) includes laser cut coreflute body kit, modular polycarbonate windscreen, polycarbonate centre and rear windscreen, Velcro, ties, glue and assembly instructions.
For more details and photos on Nighthawk Fairing Kit click here
Spare Wheels (not including tyre tube or rim tape)
• Spare front wheel Trublu rim standard + $220
• Spare front wheel TRUBLU double wall /race bearing + $250
• Spare rear wheel standard TRUBLU sealed lightweight hub (no cassette) + $220
• Spare rear wheel double wall /lightweight hub + $250
• Spare tube +$8
• Spare tyre scorcher + $51
• Rim tape + $6
• Tyre sealant + $20 (for 3 wheels)
Total $
Please tick options required.
TERMS - please note – Official School Purchase Order is required to place your order
Nighthawk Fairing Kit can be fitted on TRUBLU 4130
It is aimed at producing a fairing with speed, competitive with composite models.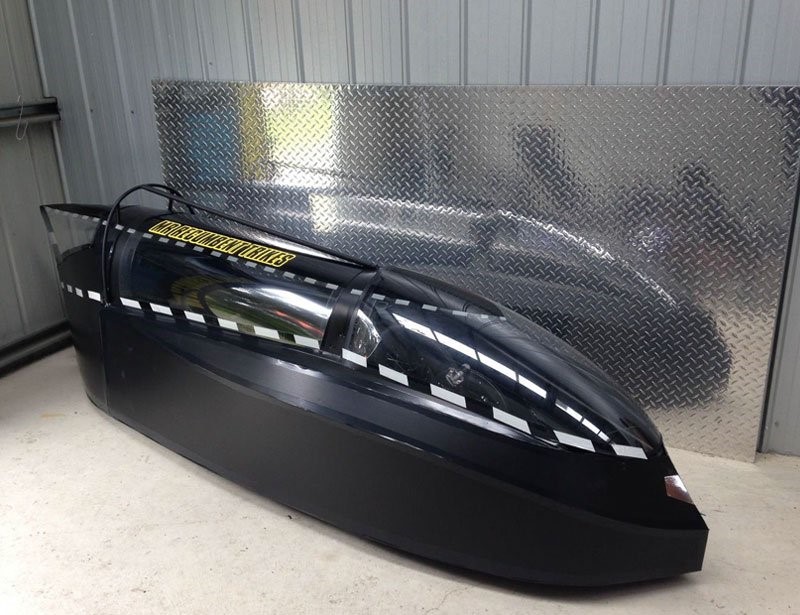 Nighthawk fairing kit fitted on TruBlu 4130 (2015 Rollbar shown - current model uses internal rollbar)